Graphic MIDI Mapping. One gesture – Multi MIDI Maps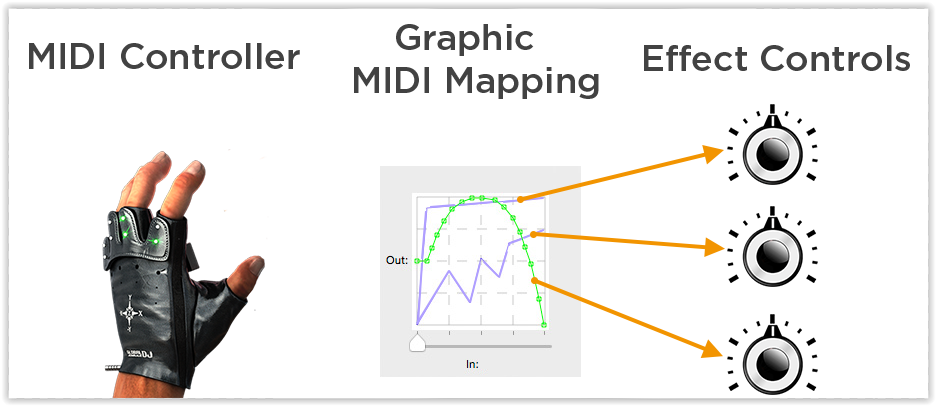 Graphic MIDI Mapping is a universal DJ tool. It allows you to:
Operate a few parameters of digital audio workstation on different MIDI maps with the help of one knob on MIDI controller or with the help of one gesture of MIDI-Gloves Tornado;
Change and transmit MIDI messages from one music studio to another one;
Create automatization in DJ programs easily without having such tools.
Professional MIDI controller Tornado A1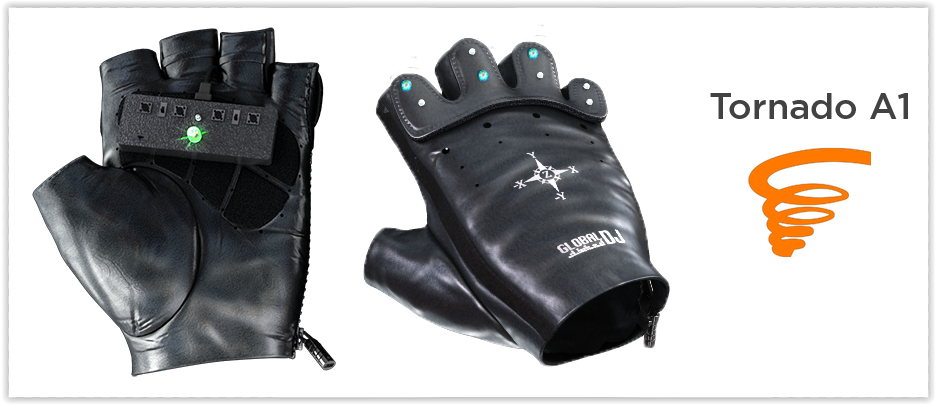 Tornado A1 is a new generation of MIDI controllers which create and visualize musical effects with the help of gestures and hand movements.
MEMS – sensory devices: accelerometer and gyroscope.
This technology has been developing since 2014.
Its personal radio interface of 2.4 GHz is used not depending on Wi-Fi and Bluetooth.
MEMS – sensory devices, transceiver, battery charge controller are integrated into the keyboard on the gloves.
Two-color diode for indication and multicolored diode for visualization are used on the keyboard.
Tornado 17 are the first MIDI-gloves of manufacturing production in the world which were optimized for DJ-ing!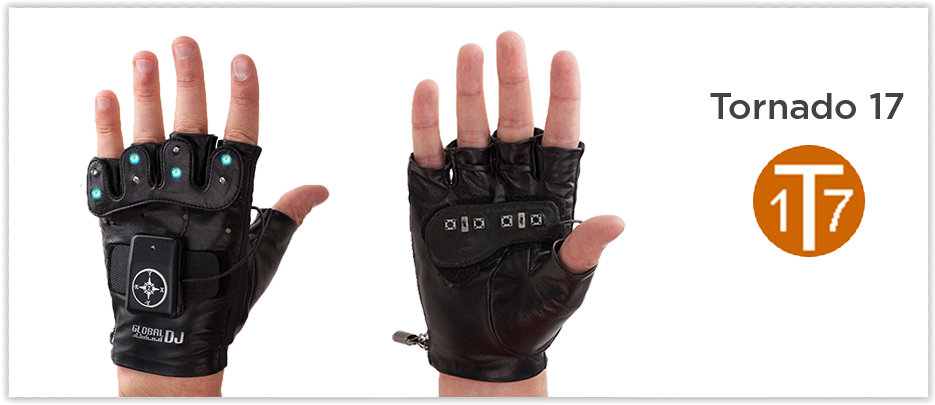 Buy
Limited edition.
Tornado 17 – is a Wireless 3D MIDI controller that uses the MEMS-technologies to convert parameters of hand movements into MIDI control signals according to flexible algorithms and methods of the Motion Capture theory.
MEMS – sensory devices: accelerometers.
Technology has been developing since 2009.
Advantages over optic systems of gestures identification: Tornado 17 is not sensitive to extraneous light in clubs and during festivals; controller has a wide working range.
Its own interface of 868-900MHz is used, that is why controller has a wide working range and insignificant signal delays.
MIDI- Gloves work without Wi-Fi and Bluetooth that is why processor resources will be used effectively.