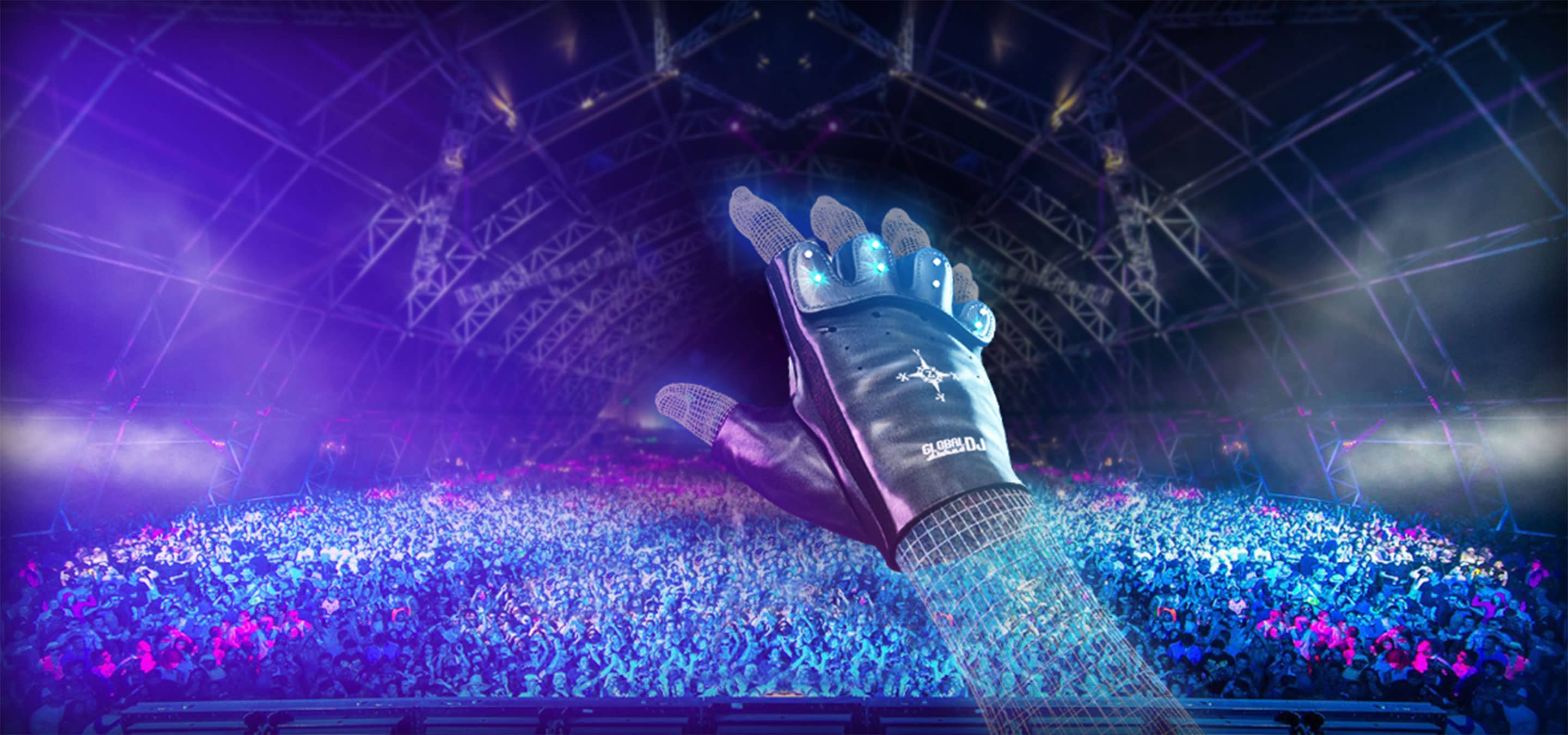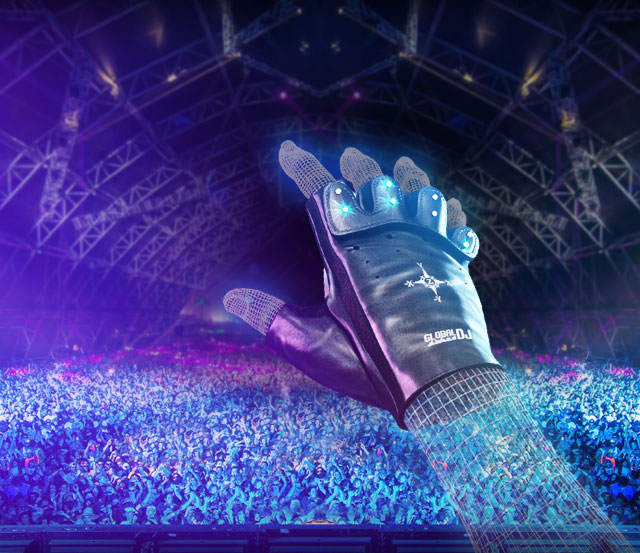 Tornado A1
Dear Artists and Musicians!
Tornado Gloves Controller
created especially for you!

Make music with gestures!
Make music like no other!
Create effects while dancing!
Crank up the party with hand motions!
Your music will never feel the same again.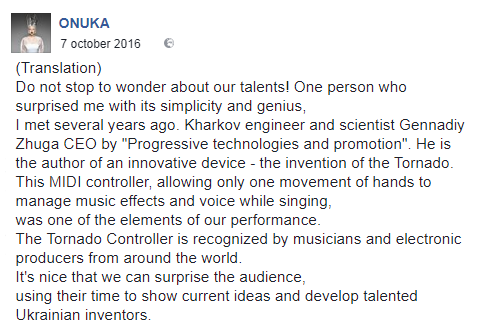 Tornado MIDI Gloves
Tornado is a Wireless MIDI controller that gives you a possibility to demonstrate incredible musical effects without touching the equipment during Live Shows. Tornado Gloves are developed specifically for creation of vivid, unforgettable Live Shows. New MIDI Controller allows you to create sound effects using gestures visually and effectively for the audience. It is very easy to perform with Tornado gloves.
Touch free:
Control effects and synthesizers in DJ's studios.
Mix the tracks in a new way.
Control your parameters of VST and VSTi plug-ins.
Makes your sets always ingenious and unmatched.
Control light and VJ shows in clubs and festivals.
Make musical effects visual.
Attract the attention of the audience with LED Visual Feedback.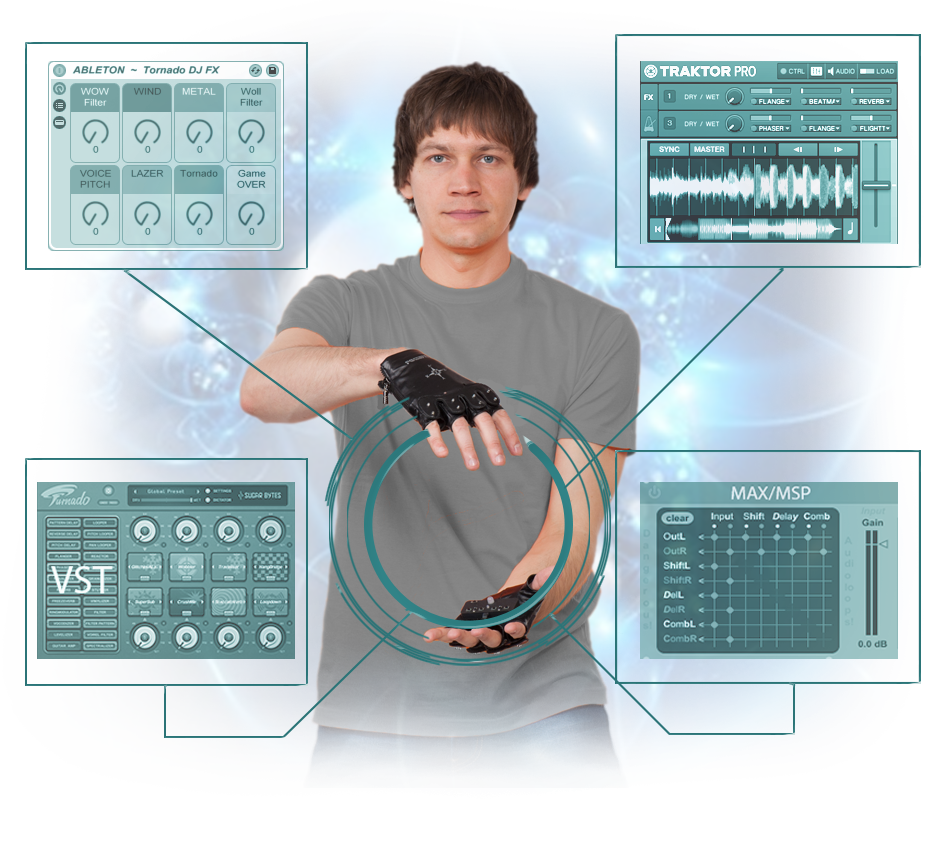 Creating music like never before
You will not be tied to the DJ console: instead of reaching out and turning the fader knob, simply raise your hand. Move freely around the stage. Remove the barrier between you, DJ deck and the party: Tornado is more like a musical instrument that fits in your hands and can be accessed any time.

Technology
Tornado consists of 3D Virtual Manipulator which is represented as Gloves and it also has the multifunctional MIDI keyboard, LED Visual Feedback and USB adapter which ensures good radio contact. Gestures are captured by 3D-sensors: Accelerometer, Gyroscope, Compass. Due to such selection of sensors you get 9D degrees of freedom.
The following is captured:
Orientation
Tilts, turns
Oscillations, waggles
Beats, sharp movements
Angular motions and speed
Acceleration and other motion characteristics
3D-sensors are made on both gloves, that's why you will be able to create several musical effects simultaneously or to control several parameters of one effect using two hands.
Tornado can be quickly connected to any musical, DJ, VJ studio, which supports the MIDI interface: Ableton Live, Traktor Pro, Virtual DJ, Serato DJ, Logic Pro, FL Studio, Deckadance, VST, VSTi, Resolume, TouchDesigner, MadMapper, VDMX, ArKaos VJ, MAX/MSP etc.
The gloves are made of quality perforated leather.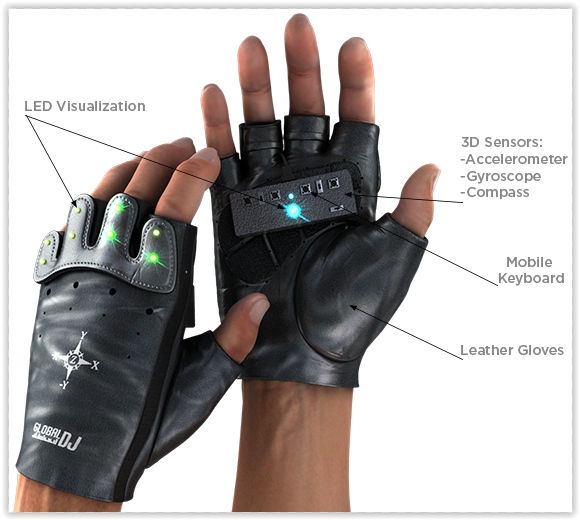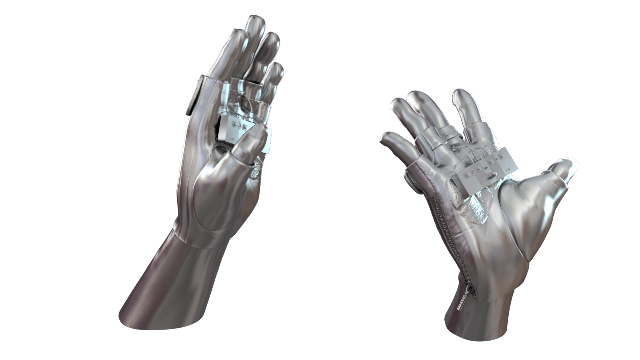 Reliability
Own radio interface: during the show you can easily turn off Wi-Fi and Bluetooth on the laptop and decrease the CPU load.
High reliability: Tornado radio protocol ensures short signal delay. The gloves instantly reconnect to musical studio without user's participation in case of interference. Tornado operates independently of external Wi-Fi, Bluetooth, ZigBee and other ISM radio devices of 2.4 GHz band.
Low power consumption: high-capacity, small-size batteries ensure controller's continuous operation time of more than 5 hours.
Stability
Interference immunity: Operation of the gloves doesn't depend on the level of hand illumination intensity, light show and projectors intensity, DJ's clothing colour.
Fast response time and high mobility: Tornado gloves considerably surpass the analogous parameters of the gesture recognition by optical systems – such characteristics of Tornado gloves are beyond the capabilities of the optical systems.
Keyboard
Mobile keyboard is very important during live performances, for example, for creating musical loops or enabling effects.
Tornado gloves have a multifunctional keyboard on both palms. Handy buttons are located directly under each finger. The keyboard is meant for quick sending of commands without unnecessary motions and gestures.
You don't have to turn on an effect using a gesture! An effect can be activated by a button and controlled by a gesture. Besides, you can play the synthesizer directly using gloves' keyboard.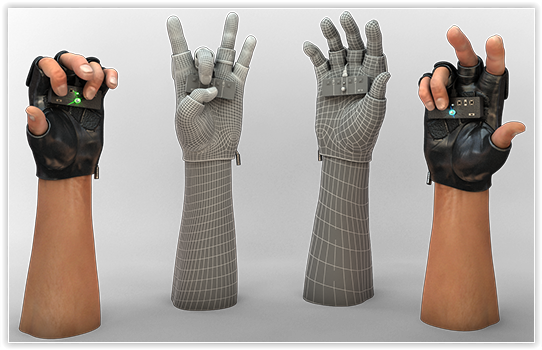 Multifunctionality
Up to 30 commands can be sent by pressing only one button.These can be various MIDI messages for digital audio workstation control as well as commands for control of glove operation algorithms.
All buttons can be programmed and connected to certain parameters of musical effects and synthesizers (Mapping).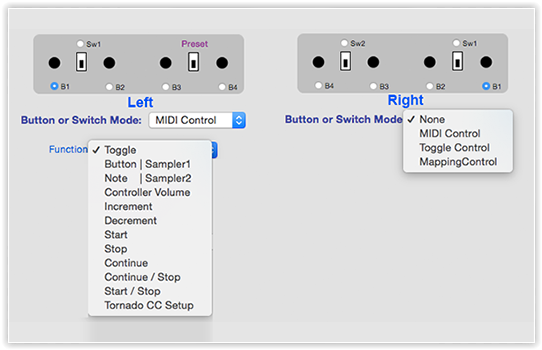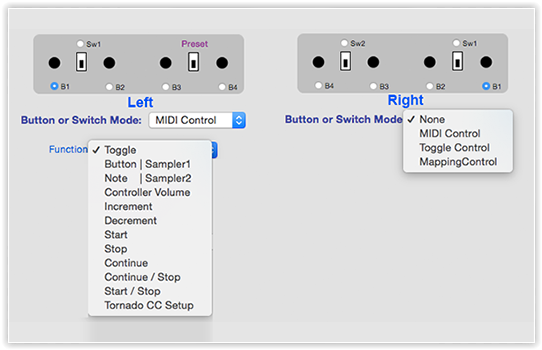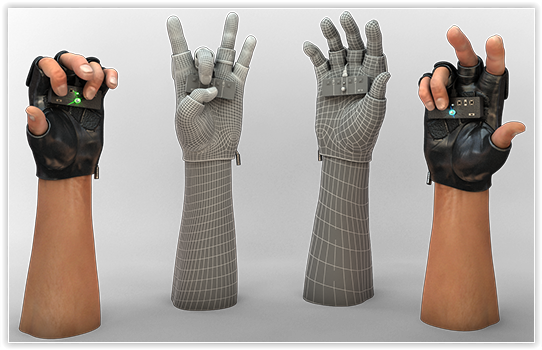 LED Visualization
The LED lights are activated automatically and respond to every gesture.
The LEDs on both hands act independently. They can be adjusted to various modes of operation.
Besides, LED visualization is an element of decoration.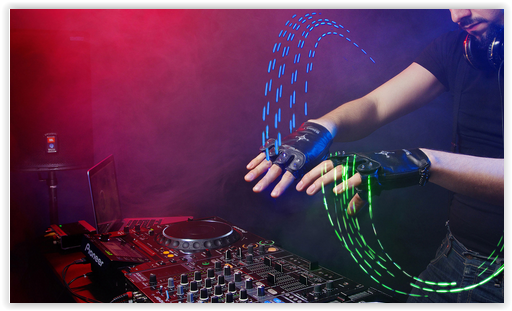 Application of the Tornado
Tornado MIDI Controller is optimized for DJing.
DJing
Tornado MIDI Gloves are ideal for creating impressive shows in clubs and festivals:
Musical effects becomes visual
Easy to work with the DJ mixer
LEDs attract attention of the audience
Unique design
Easy to put on and put off.
Smart controller
High reliability of controller operation is ensured by protection against generation of false command signals and by a "smart" filter, which prevents fluctuations of musical sounds and controls admissible limits of sensor signals.
Automatic knob return and automatic effect turn off functions are built in the Tornado software.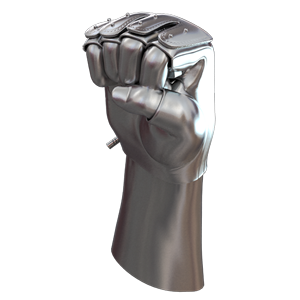 Connection
A laptop (Windows or Mac OSX) and audio interface are required for Tornado Gloves operation. Ways of connection:
As a digital audio workstation or player
As an external effector for the DJ mixer

Presets for DJ, Vocal, MC
No complicated programming! You don't need to create MIDI mapping – we've already done everything for you. The Tornado plugin is implemented using presets. You just need to download the selected preset from our website and everything will be ready to create musical effects. You will instantly start mastering musical effects. It's very easy!
All effects in presets are controlled by simple and convenient gestures. On the one hand, these are the favorite moves of DJs, on the other, they are visually obvious and understandable to people on the dance floor.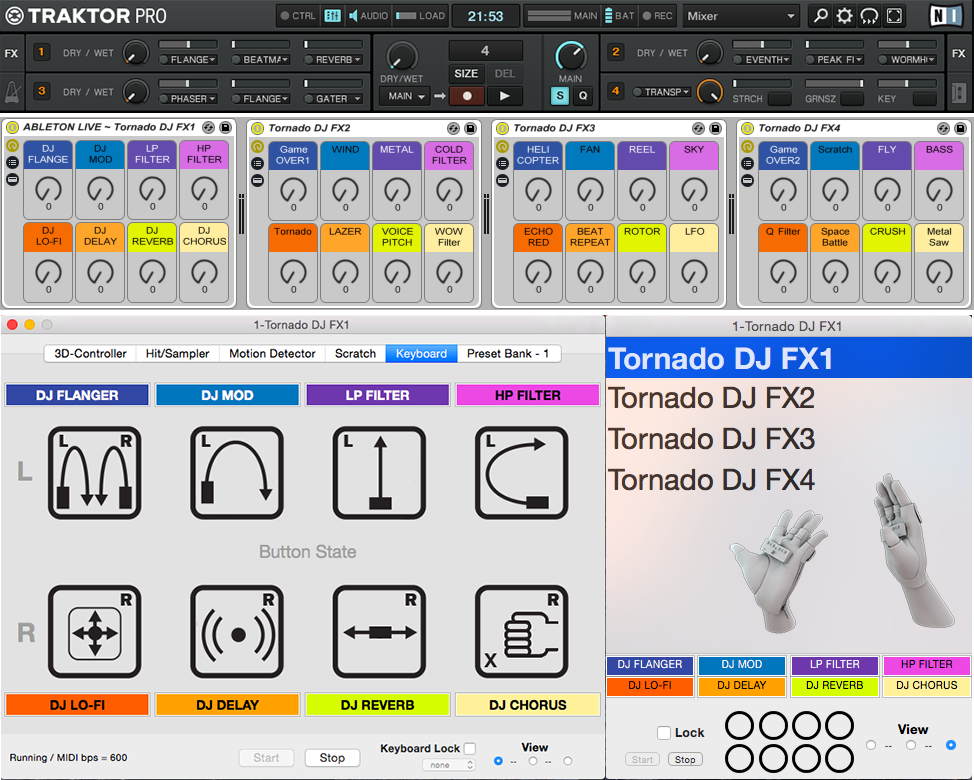 Presets for DJs
We developed presets for such popular DJ programs as Ableton Live and Traktor Pro. Presets involve both classical DJ and new effects. Now you can control your favourite effects by means of gestures, mix the tracks in a new way, do scrath, launch samples by means of waves of the hands, synthesize Uplifting and Downlifting effects during live shows.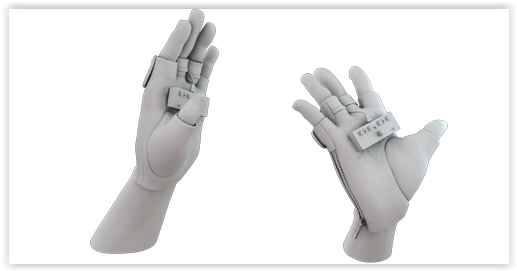 Presets for Vocalists
Using Tornado, you can control your voice, apply effects to it (pitch, delay, echo, reverb, chorus, etc.) directly during the show. It is very comfortable, ergonomic and natural. Gloves will become your indispensable tool for opening up new opportunities in your vocal performance.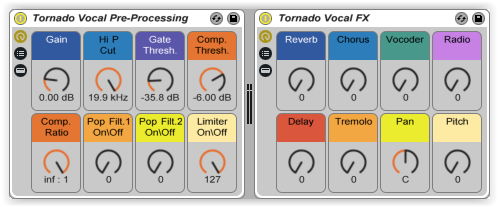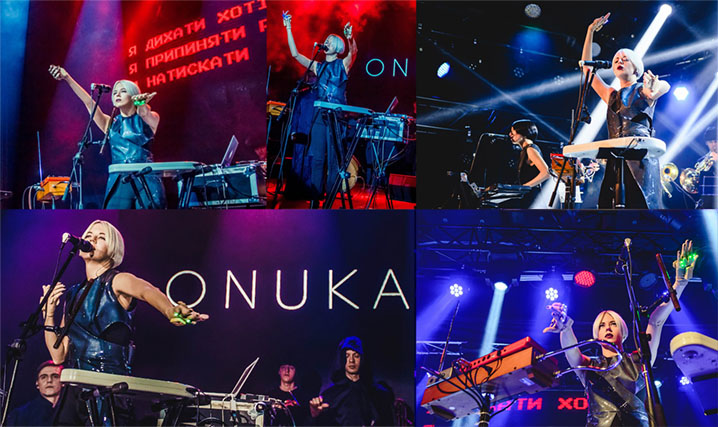 Presets for MCs
Club front men use the MIDI gloves in a very eye-catching way. Tornado helps them to entertain the audience, play and interact with it, create positive emotions for people.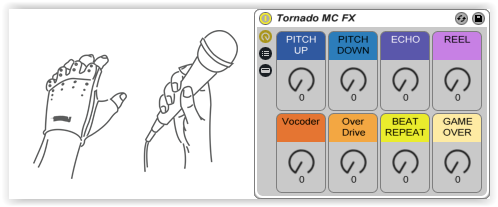 Advanced Features
Develop your extraordinary musical effects and control them by MIDI gloves.
Tornado software allows you to connect any effect parameter to the appropriate motion using advanced MIDI Mapping.
Graphic MIDI Mapping and Multicontroller
Tornado allows you to control several effects simultaneously in different trajectories and MIDI maps by one gesture or one hand motion. The trajectory (MIDI map) is drawn with a graphical editor, and the multicontroller links the individual MIDI map to the corresponding parameter.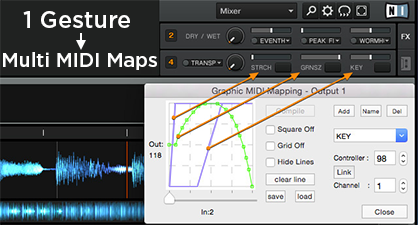 VST & Tornado – Unlimited Opportunities
Tornado MIDI controller can manage all VST plug-ins, which support the MIDI interface. Such potential can be implemented by creating original musical ideas during the live show. It is an exciting process making your performance unique.
Advantages of VST plug-ins compared to hardware-controlled effectors:
large number of accessible effects and synthesizers
unlimited set of presets for plug-ins
flexible adjustment of various effects' parameters
"Scenario" mode of operation
In this mode the MIDI gloves allow creating complex, dynamically developing musical effects by simple and spectacular way. It is attained by sequence distribution of musical effects into scenarios. These scenarios are easy to memorize and easy to execute.
"Live" track
Besides, using Tornado you can create a unique "Live" track just during the show in the "Scenario" mode. Track sounding and development depends on the DJ's current emotional state and inspiration. The artist can change the music pattern of the track at any time feeling the audience's mood.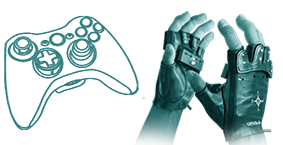 "3D Mouse" mode of operation
Tornado controller has additional modes of operation. It can operate as a 3D mouse or a joystick. You can play games moving around the room, and LED visualization will display important game effects.
VJing.
Light show control in clubs.
DMX technology
You can control the light show, which supports the DMX technology, by motions of the Tornado gloves. Bring in a story of your music to the light show. It can be done by means of plug-ins, which transform MIDI signals to DMX signals.
Visual Live Show.
Tornado Gloves are ideal for VJing.
Make Visual FX with gestures!
Tornado Gloves are very effective for creating visual live performances. At any moment the VJ can easily manage visual objects and the 3D mapping process. Simultaneously performers get the ability to move around the stage or interact with the audience. VJ turns into the wizard, who creates his colorful virtual world with gestures.
Tornado Gloves are compatible with such software for VJing, as: Resolume, TouchDesigner, MadMapper, VDMX, MAX/MSP and many others. Using this software together with Tornado Gloves performers obtain the ability to control visualization, footages, loops on large screens and projections. It is particularly interesting to use Tornado Gloves with projection domes from Front Pictures, as shown in the following video.
With the help of Tornado MIDI Controller you can literally draw your emotions and feelings, shape them in the form of a colorful picture.
Compatible With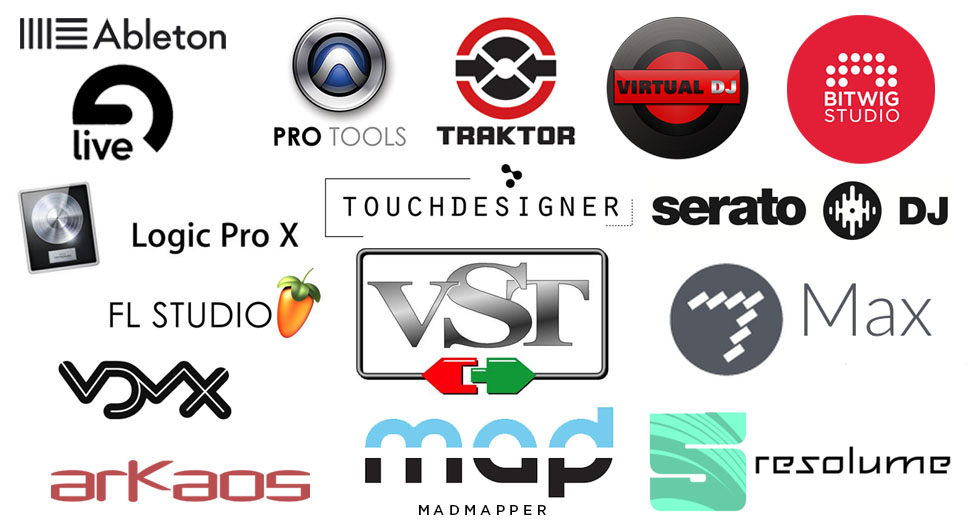 Tornado Specification:
Quality leather gloves with a zipper – extremely fast to put on/off; smartly ventilated.
3D sensors on both hands. You can control multiple musical parameters simultaneously
Hand movements parameters are transformed into MIDI signals with the help of such algorithms: 3D-Controller, Hit/Sampler, Motion Detector, Scratch.
74 different control streams with both hands.
Any control stream can be mapped to MIDI CC on 16 different channels.
Integrated virtual MIDI port on Mac OSX and Windows. You can also use any 3rd party MIDI port for send MIDI messages to DAWs.
MIDI Stream control. Bit rate limitation for legacy devices.
Preset Bank support. All the adjustments can be easily saved to a file. Presets can be switched remotely in real time, thus the amount of available effects is unlimited.
Graphic MIDI Mapping. It allows you to control multiple parameters according to different MIDI curves (MIDI Maps) with one hand movement (gesture) at the same time.
"Scenario" – is a special operating mod for Tornado Gloves, which is dedicated for creating complex and compound musical effects of consecutive scenes.
High productivity with low CPU and memory usage.
Highly reliable, protected against false activation. Logical filter, which prevents the leaps of musical sounds.
2.4 GHz radio interface. Coexistence with Wi-Fi, Bluetooth and ZigBee. High interference immunity and operating reliability. Automatically switched to a free or better channel in real-time.
Short delay for MIDI messages, 20 ms max.
USB interface.
Radiation power: 1 dBm.
Operating range: up to 10 m (indoor), up to 50 m (outdoor).
Low power consumption. The controller's uninterrupted operation time is approximately 6 hours.
Fast charging LiPol batteries: 20-30 minutes.
Embedded protection against generation of false MIDI control signals.
Advantages:
Tornado Gloves have a multifunctional keyboard that fits exactly in the palm of your hand.
LED visualization. It activates automatically when the effects are being manipulated, which attracts the public's attention. Both hands' LED visualizations are independent. Versatile possibilities are created to control LED visualizations.
The responsiveness and portability of Tornado MIDI Glove surpasses that of optical systems. In fact, these characteristics lie far beyond the capabilities of optical systems.
The Strobe Lights and Searchlights do not interfere the gloves in a club environment. Tornado Gloves operation is irrespective of the hand illumination and cloths color.
You are free and can easily move around the scene.
Your psychoemotional condition and individual bioelectrical characteristics of your hands do not affect the gloves' operation. This advantage is not present with the systems, using the bioelectrical signals and muscle impulses of hands to detect gestures.
Accurate, simple and comfortable to use!