Tornado Gloves Controller for Gamer
   Play games using Tornado Gloves Controller. It is very comfortable, you can move around the room or lie on the couch. Especially, the gloves advantage appears when using the 3D glasses and helmets. Since, in this case, a classic keyboard is not visible, Tornado gloves can help you and they will be in your hands.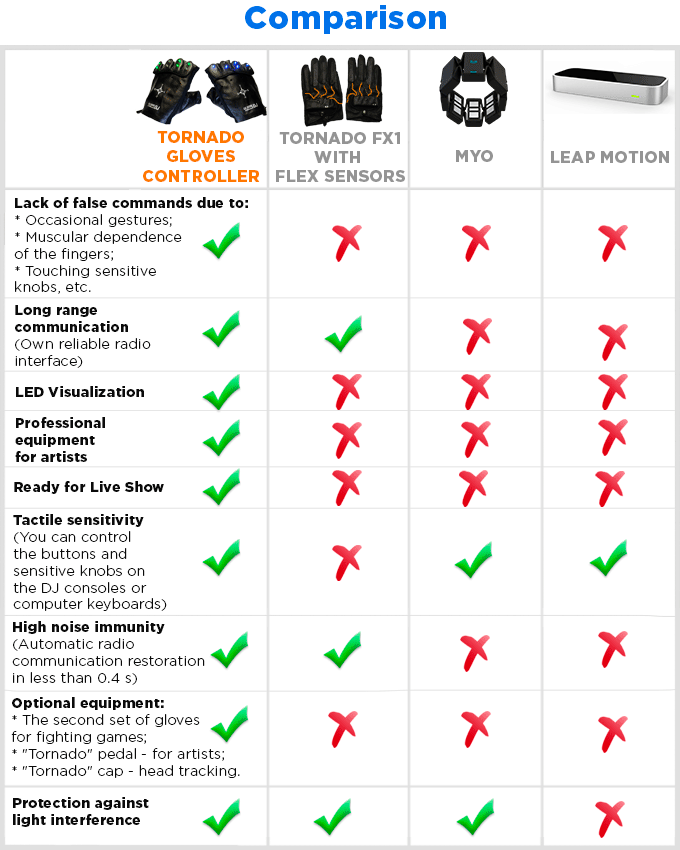 As a wireless wearable motion controller with mobile keyboards for video games, Tornado Gloves Controller delivers newest possibilities on a wide variety of platforms and genres including Active Fighting, Tactical Shooters, Arcade Simulators, Vehicular Сombat MMО, Flight Simulators (Planes, Helicopters, SpaceShips), Virtual Reality, Augmented Reality, etc! During the materials preparation for this project, we participated in many exhibitions and festivals devoted to new technologies and robotics. All interested adults and children could test our new Tornado controller: we created music, played games, manipulated 3D objects.
Vehicular Сombat MMО
   The Tornado will make you feel like real pilots, drivers and navigators, and due to it, the line between real and virtual controls dissolves. As an example, we've recorded several real games battles of this genre – World of Warplanes, World of Tanks, War Thunder.

World of Warplanes

   We are proud of Tornado Gloves Controller, because it allows to defeat entire enemy groups even with a low "pumped-up" military vehicles. Please, look at the example of one of the best games in this genre – World of Warplanes!
World of Tanks
    It is also possible to drive the game World of Tanks, you need to enable the Tornado control mode "Mouse Mode" for this.
   You can see that the player gets free from the keyboard and mouse, and the player's hands and fingers seem to interact with real levers, rudders, hand wheels, buttons and switches. While playing with Tornado, the player will feel the happiness of physical activity and the convenience of playing the game. The player will receive positive emotions and adrenaline.
   Global DJ Technology recognizes and supports the desire of our clients to get the exclusive version of Tornado Gloves Controller. For Wargaming games, the gloves can look like this: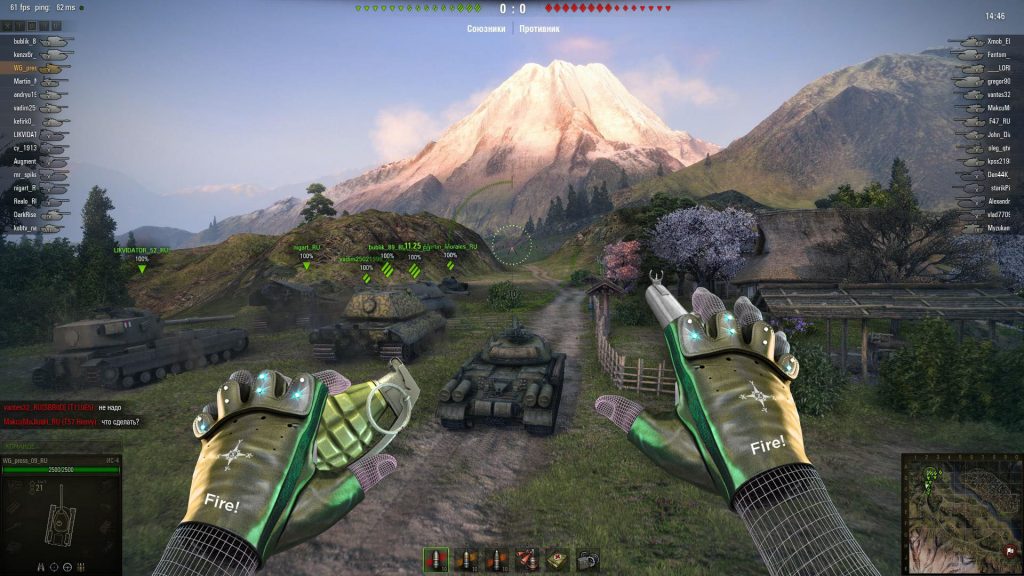 War Thunder: Planes
War Thunder: Tanks
Flying Tigers Shadows Over China
   This game has become the favorite one for children at 5-16 years at all gaming shows with our participation. Within a few minutes, children with great pleasure handled all the fine points of control and immediately became aware of the controller advantages. After playing five minutes they brought their friends and passed them their experience and emotions.
Apache – Air Assault
   Extremes, thrill fans! Attention! We present you the helicopter driving using Tornado in a helicopter simulator. Piloting with the help of levers reminds balancing on the tip of a needle, our controller will help you to feel these emotions.
   For convenience, each user can customize the controller for his or her convenient gestures and movements, assign functions for buttons and axes. A file with all the settings of the Tornado driver/plugin is called a preset. For any game, a player can create his or her own convenient preset.
   Graphic representation of the preset "Game – Apache Air Assault" (button assignments, axes and mapping):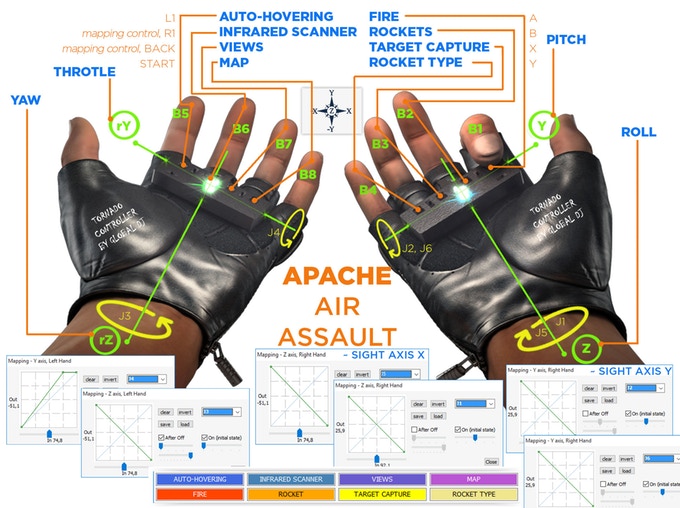 At the moment we have developed a large number of presets and optimized them for different genres of games.
   At the beginning of each video, we show a graphical representation of the preset for the proper game.
   The lower part of the image shows the graphic mappings – the functions of the input and output values of the controller Y = F (X). X – input values of the controller is for the corresponding axis, and Y – is output values that are transmitted to the game. For each axis, you can draw several different functions (maps). Therefore, with one gesture you can control several different parameters or axes in the game.
Action Fighting Games
   The games of the genre "fighting game" will be presented on the example of one of the most successful and influential video game in the history – Mortal Kombat XL for 1 and 2 players.
Mortal Kombat XL: 2 players
Mortal Kombat XL: 1 player
Values and Advantages Tornado for this genre:
– The player is free in movement in motion (lack of wires and a heavy remote controller, which must be held with both hands);
– Recognition of strikes on three axes by each glove;
– Excellent reaction speed, from 10 ms to 20 ms;
– At the same time, all buttons, impacts in all directions and orientation are recognized. This simplifies the creation of special tricks (Secret Fatalities, Brutality, Babalities);
– You can be as physically active as possible during the game (playing with Tornado gloves during 5-10 minutes you cheer up, relieve stress, and fill yourself with new hormones of happiness by movements);
– It is possible to play together *;
– There is an opportunity to conduct effective fighting championships among players – on a completely new technology level with the help of Tornado controllers.
   * each set can contain up to 4 gloves.
Tactical Shooters Games
   In the following videos, the example of the cult game Battlefield 1, let's pay attention to the simplicity and naturalness of managing characters, weapons, tanks, planes with the help of Tornado Gloves Controller:
Battlefield 1: Infantry
Battlefield 1: Tanks
Battlefield 1: Planes
   Playing new or already familiar games of this genre, you will immediately notice the advantages and values of our Tornado Gloves Controller, you will receive a completely new drive and emotions every time:
– Free hands and body position;
– The individual and precise adjustment of axes and buttons is possible;
– High accuracy of gestures recognition.
Arcade Simulators
   In the next subsection, we show how the Tornado Gloves Controller demonstrates its unique capabilities in games of genres such as Arcade and Sports Simulators: Need For Speed, Grid 2, and Vehicular Combat Racing Video Games: Road Redemption and many others…
Need For Speed
Road Redemption
   The Tornado allows you to sit in your favorite chair freely and comfortably, wear a VR headset or sit away from the TV or monitor, take a comfortable position, relax, imagine yourself driving a super "pumped-up" car, motorcycle or other vehicle – and get pleasure from driving, polish driving skills.
Space Battles
   A vivid example of this genre is the game "Star Conflict".
The Tornado Gloves Controller gives the best fit for controlling a spacecraft.
Tornado is a gadget from the future and it is already available right now!